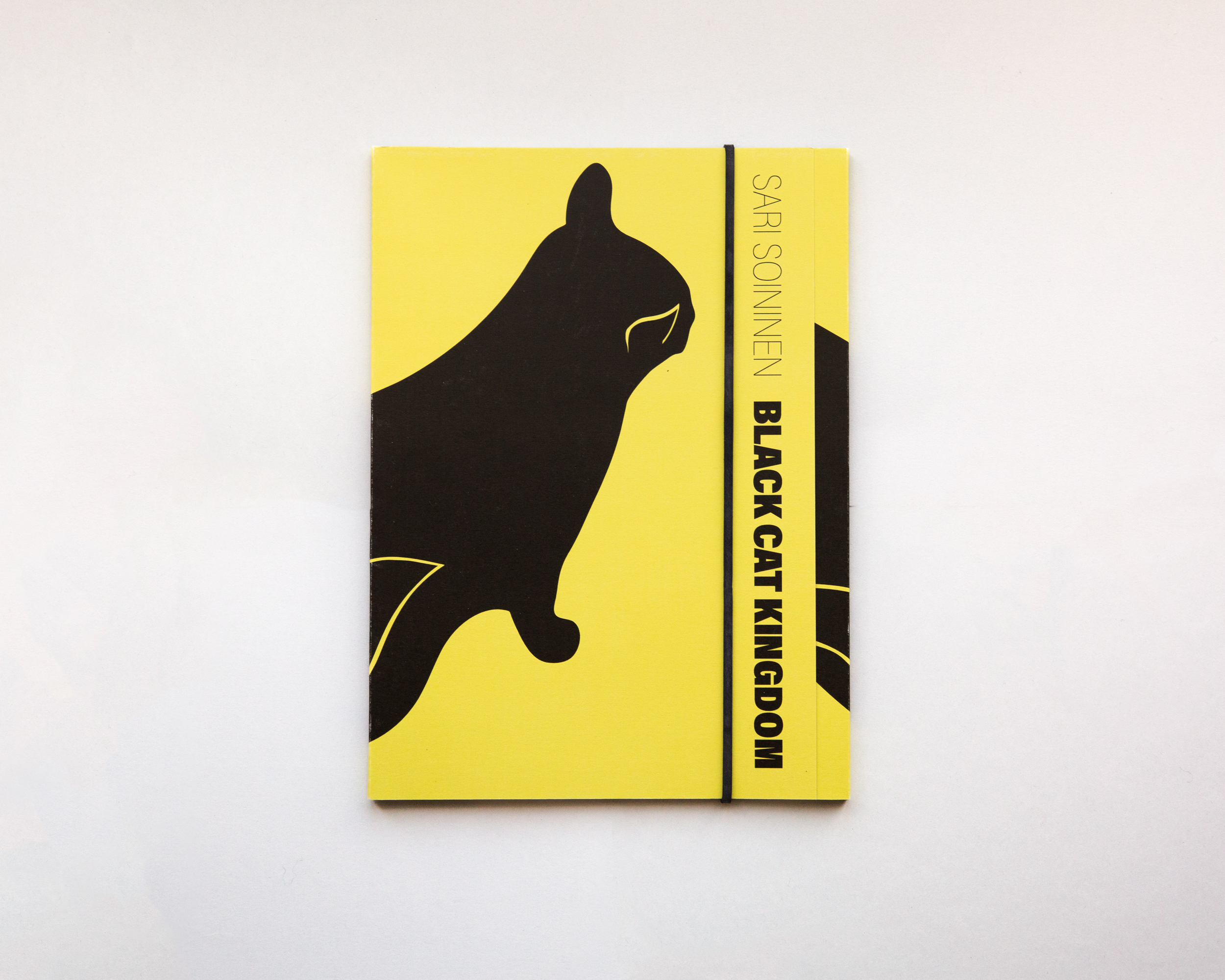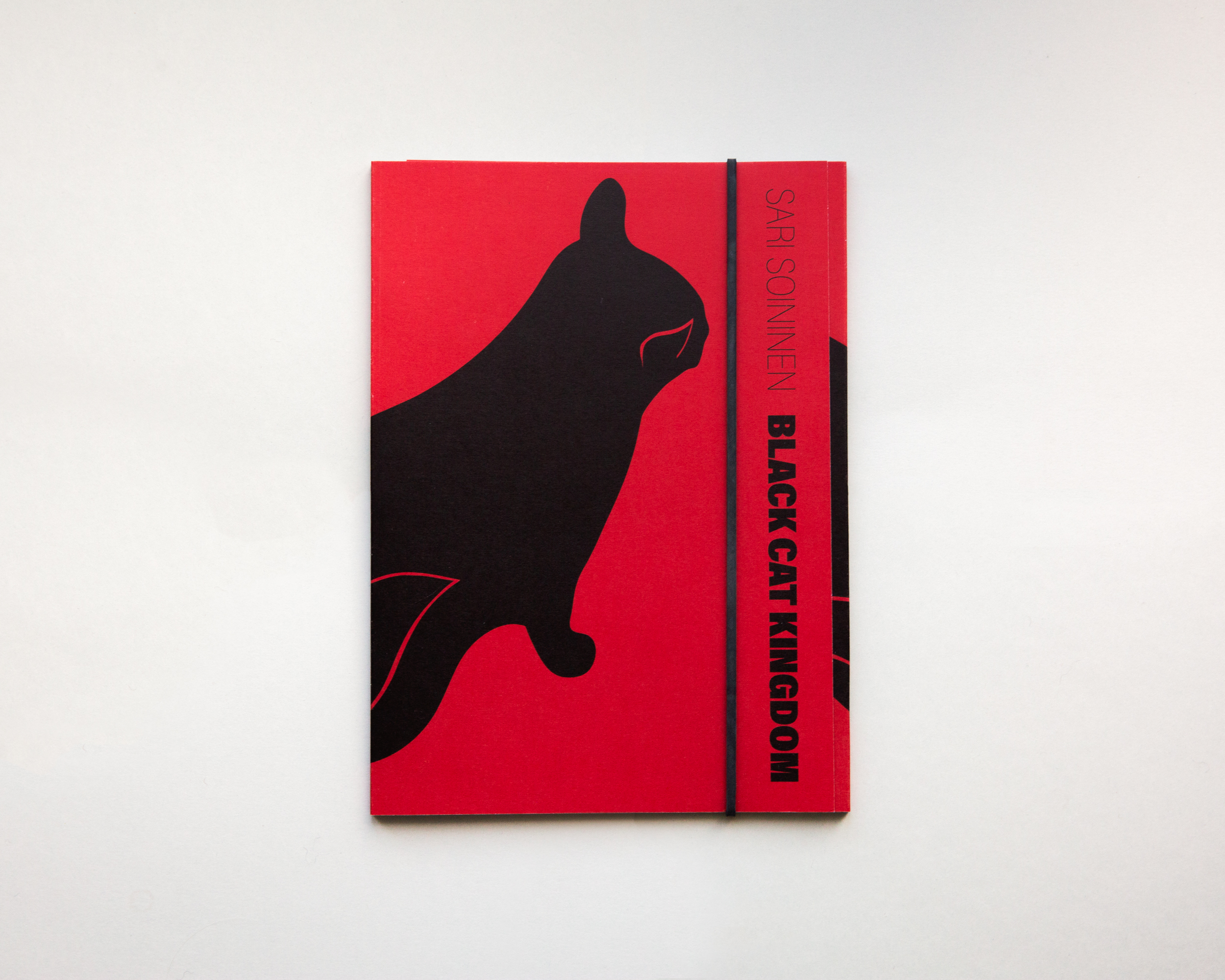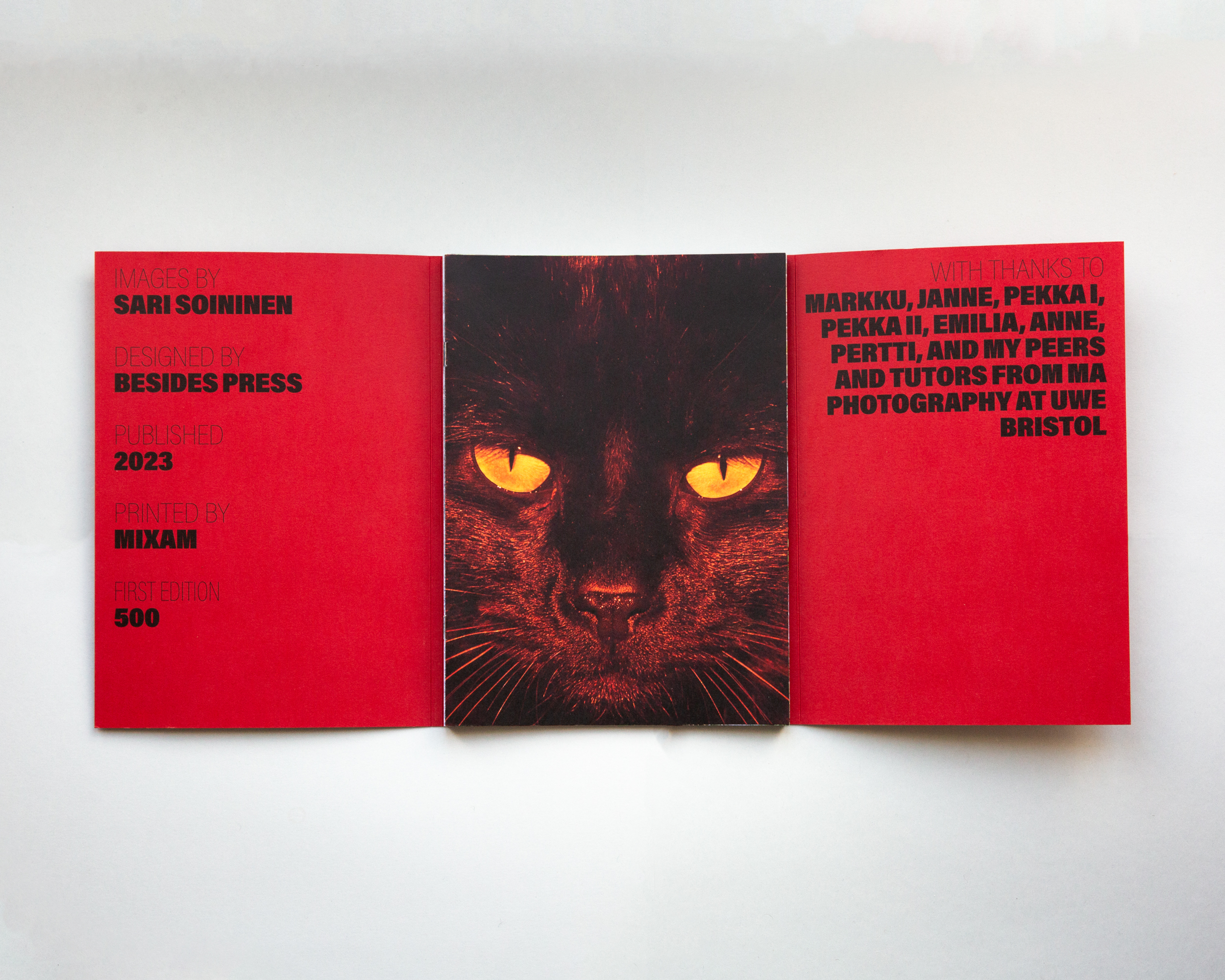 Scroll for more info ︎︎︎
Black Cat Kingdom
Sari Soininen
— £17
---
Black Cat Kingdom
launched at the Photo Book Café, London 12th October. More info can be found
here
.
The book is published to coincide with Soininen's first major solo exhibition at the
Lahti Museum of Visual Arts Malva
, Finland in November 2023.
---
Walking through her local area one morning, Sari Soininen detoured through an unknown alleyway. On turning the corner, a gang of five black cats began running towards her. "I felt like I'd encountered a glitch in the Matrix" she said, "I began visiting these cats daily for a period of three months through the first lockdown of 2020. They gathered up into the same alleyway every morning. I brought them food and played with them."
Using flash with colour gels, Soininen transforms the cats into colourful, otherworldly creatures inhabiting a fever dream. Her photographic process draws on philosophical wonderings about reality, and her personal, mystical experiences; Soininen offers the viewer a vision of alternative realities as she sees them. The
Black Cat Kingdom
was created at the same time as her first major publication, Transcendent Country of the Mind (The Eriskay Connection 2022), in which she reconjured a way of seeing she experienced during an LSD-induced psychotic episode in her early twenties.
The black cat is a rich folkloric and superstitious symbol across many cultures, and in this project they are treated as such. To the Celts, black cats were sacred; the ancient Egyptians worshipped the Goddess Bastet, who was depicted as a black cat; and black cats are repeatedly referenced in pop culture and cinema, such as The Matrix.
The format of the book is labyrinthine. A surreal and winding journey through multiple sections and gatefolds, overlapping to create a concertina-like structure. The book reveals itself in new ways upon each viewing.
Black Cat Kingdom
will be published to coincide with Soininen's first major solo exhibition at the Lahti Museum of Visual Arts Malva, Finland in November 2023. A UK launch of the book will take place at Photobook Café, London 12th October.
---
Size 177mm x 245mm
32 pages, multi-sectioned concertina
Saddle stitched
Softcover wrap, in 4 different colours
First edition of 500
Edited, designed & published by Besides Press
---
Sari Soininen holds an MA in photography from UWE Bristol (2021), BA from Lahti Institute of Design (2014). Her colourful otherworldly photography draws from philosophical thoughts and personal, mystical experiences. Her interest is in providing the viewer with alternative ways of seeing the world and reality around them. She uses long shutter speed, colour gels and projection to build dreamlike alternate realities within the moment.
www.sarisoininen.com
---
International delivery: The customer is responsible for all import fees, tax, charges or duties incurred on international postal orders. Besides press is unable to cover these costs at present.
Scroll for more images ︎︎︎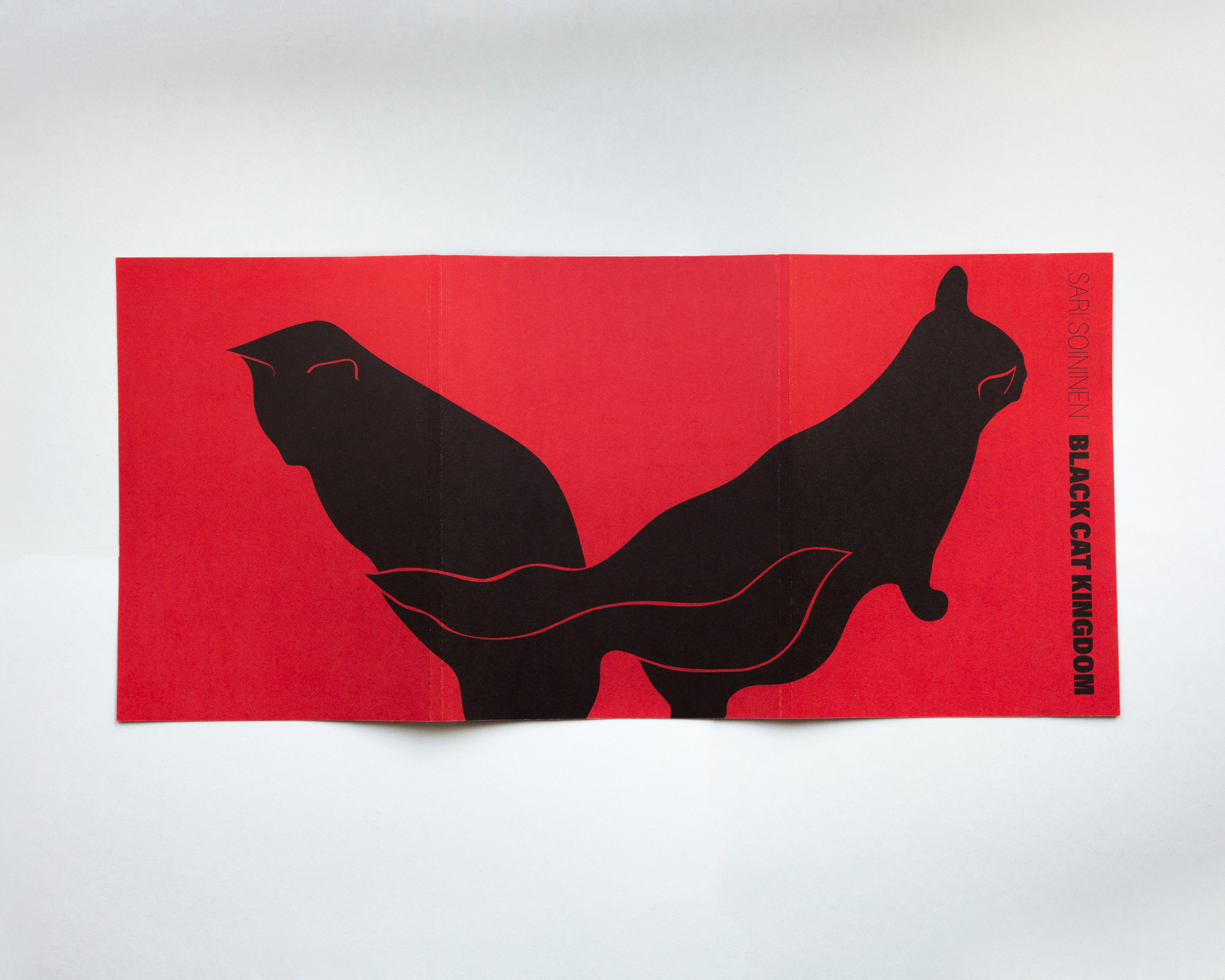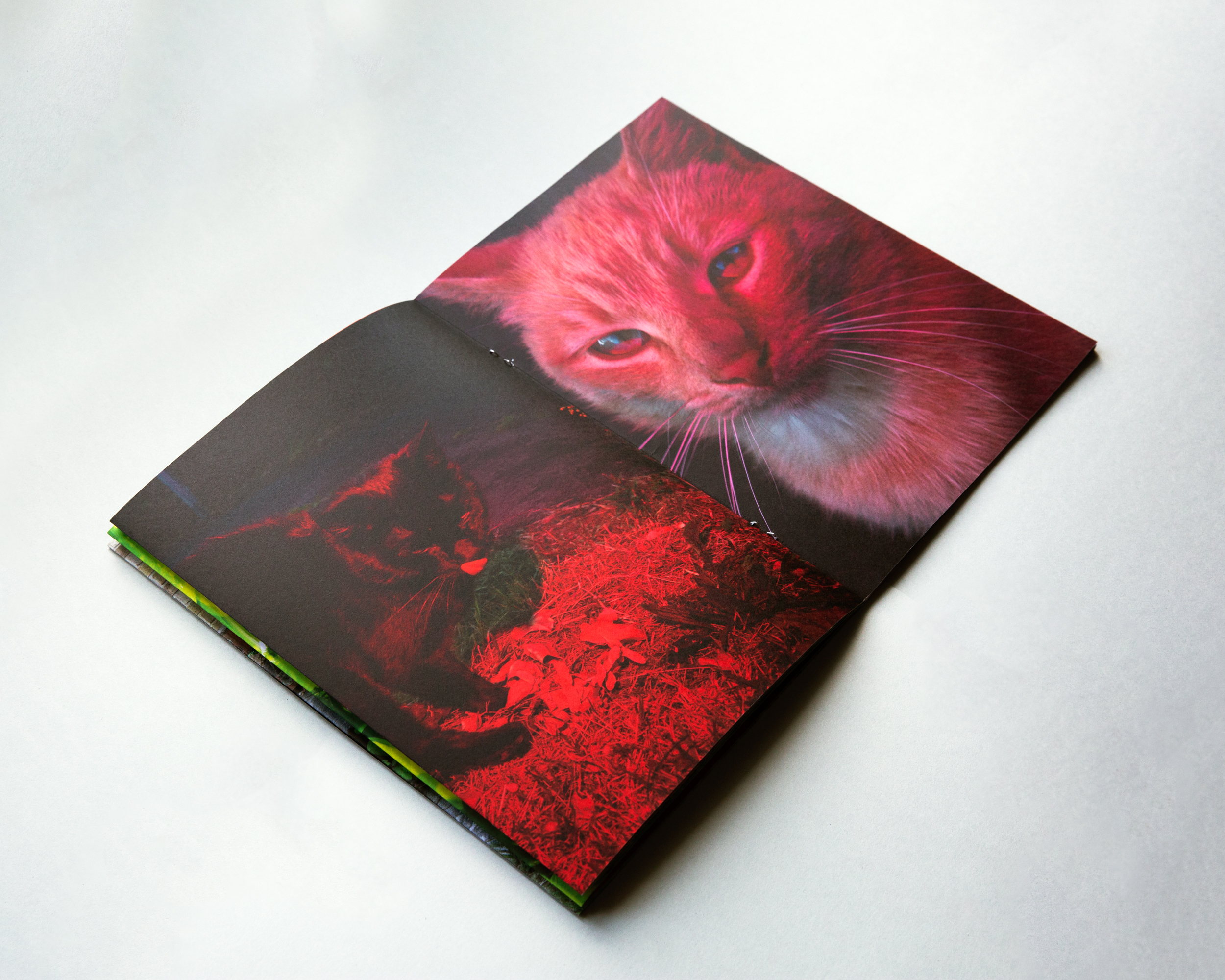 Postcard set — each presale order comes SIGNED with a set of 4 postcards (until October 12th)